Introduction to triathlon
Triathlon is a unique activity. It is adaptive, inclusive and flexible. People of all ages, abilities and backgrounds can participate in triathlon, and it is a sport that emphasizes "finishing over winning". Challenge, personal achievement and a healthy lifestyle is encouraged.
As a triathlon coach, we encourage you to teach young athletes and novices the values and philosophy of the sport. We challenge you to introduce and model the components of a healthy lifestyle. More importantly we encourage you to have fun.
Triathlon is a multi-discipline sport involving a continuous race over various distances in the three disciplines of swimming, cycling and running, but is so much more. As well as the transition skills required between swim-bike (T1) and bike-run (T2) disciplines, you also need a background knowledge of the sport, the rules of competition, the how-to skills of coaching, and the ethics and welfare needed for safe and equitable coaching.
The History of Triathlon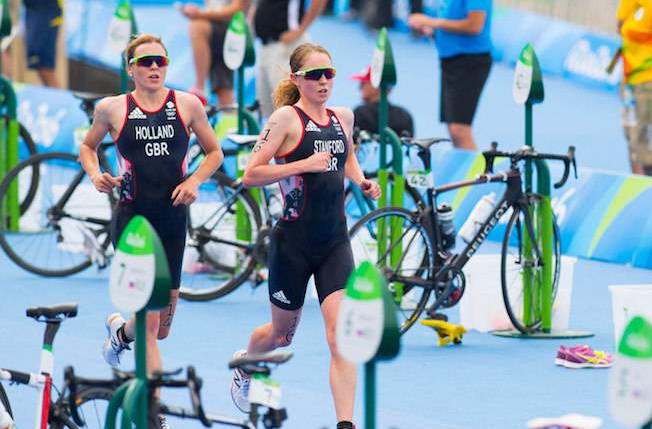 The origins of Triathlon may have started in France in the early 20th  century, but modern triathlon has its origins in west coast America in the 1970's, when groups of swimmers, cyclists and runners started to combine the sports to race against each other. The first recorded triathlon took place in San Diego, California on September 24, 1974. It was organised by the San Diego Track & Field Club as an alternative to the rigors of training on the track. The race, which took place in San Diego's Mission Bay, consisted of a 5.3 mile run, a 5 mile cycle and a 600 yard swim in the Bay. A total of 46 athletes finished the race.
Triathlon grew rapidly from its humble beginnings in San Diego and within a matter of years it became one of the fastest growing sports all over the world. The International Triathlon Union was founded on the 1st of April 1989, at the first ITU Congress in Avignon, France. A total of 30 National Federations attended the initial Congress and preparations were made for the sport's first World Championships to be held in Avignon in August of 1989. At this meeting the Olympic distance was set at a 1.5km swim, 40km bike and 10km run.
Triathlon was officially added to the Olympic Programme by the IOC at its Congress in Paris in 1994. Triathlon made its Olympic debut at the 2000 Games in Sydney, with Switzerland's Brigitte McMahon and Canada's Simon Whitfield earning the sport's first gold medals.
The Rio Paralympics were also the first time that paratriathlon entered the highest level of the sport.
What is Triathlon?
Competitors race against the clock, which starts as they enter the swim and stops as they cross the finish line after the run. This includes time splits for each of the separate disciplines.
For this reason, triathlon is often reported as having a 'fourth discipline' known as the transition. The transition is the point in the race when competitors change from swimming to cycling (T1) , and from cycling to running (T2).
How Does a Triathlon Actually Work?
Triathlon is quite unusual in that you don't actually complete a triathlon in training. This is generally saved for race day. Essentially you complete a swim then bike, and then run, with no stops between each one; it's as simple as that!
Obviously there are rules, and as a coach you should be aware of these to stop your athletes getting penalties. Some common rules for beginners are:
No outside assistance (no one can hold your equipment or help with punctures!).
No nudity!
Race numbers to be displayed (rear for cycling and front for running).
Triathlon Format
Although triathlons vary in location, terrain and other features, the majority of triathlons follow the general format below.
Table showing the disciplines within a typical triathlon

| Discipline | Description | Image |
| --- | --- | --- |
| Swim | Triathlons generally commence with a swim in either open water (lakes, rivers, oceans, seas, etc.) or in a pool. Swim courses can be many different shapes. In open water races, athletes begin at the same time in a mass start or in waves for safety. In pool swims athletes can start one at a time, in small groups, or all together pending enough space. | |
| Transition (T-1) | Following the swim, athletes exit the water and complete a transition on to the bike. This is called T1. All the athletes' equipment is placed in the transition area, which becomes a central focus during the event. Transition areas are usually a rectangular shape and a fair transition means all athletes travel the same distance during the race to get through. | |
| Cycle | Next is the cycle portion of the triathlon which is generally conducted on public roads and often closed to traffic. Large parks with adequate roads may be suitable to give participants a traffic free environment. Courses may be looped, out-and-back, or other variations. | |
| Transition (T-2) | T2 is the second transition, from bike to run. In most triathlons, athletes rack their bike in the original position. Usually athletes change from cycling shoes to running shoes in T2. | |
| Run | The race finishes with the run. Run courses are diverse and often involve a variety running surfaces. | |
Transition the 4th Discipline
The transition is often referred to as the 'fourth discipline' in a triathlon event. Transitions involve a change from one discipline to another and therefore include specialised skills related to equipment. In a traditional triathlon there are two transitions: Transition 1 or (T1) which is swim-to-bike and Transition 2 (T2) which is bike-to-run:
Transitions are unique to multi-sport events and occur between sports. Athletes "transition" from one sport to another, changing equipment in the transition area.
The transition area is a focal point of races, where all athletes keep their equipment. It is usually an exciting, chaotic, and crazy place.
Athletes use more fine motor skills and perform specific skills like putting on helmets and shoes; taking off swim caps, and moving the bike on and off the transition racks.
T1: The swim-to-bike transition begins when athletes exit the water and may involve running up hill or on varied terrain such as sand, grass, asphalt, and other surfaces for anything between 25m to 500m!
T2: A bike-to-run transition begins as soon as athletes dismount their bike, and is often shorter than T1. It is during and immediately after T2 that athletes will mention the feeling of 'jelly legs'.
Depending on the race, the skills involved in a transition may include:
Taking off a wetsuit, swim cap and goggles.
Putting on and taking off a helmet, bike shoes.
Putting on running shoes, number belt, running cap.
Possibly a jacket, socks and other attire.
Walking or running with your bike.
Mounting and dismounting the bike.
Un-racking and re-racking the bike.
Transitions require an individual to be calm and fluid in their practice, while still moving as quickly as possible.
No two transitions are ever the same; there are many variables in transition so an athlete must be prepared for anything. For example, it is common for equipment to be moved or altered.
Many coaches underestimate the importance of transition practice, particularly in changing/ variable circumstances. It is important that transition practice is integrated into coaching sessions, practising for a variety of scenarios.
Safety concerns that arise in transitions usually relate to participants trying to rush which results in disrupting, tripping over, or colliding with other equipment or individuals.
Race Distances
Distances of individual events may vary from race to race, but there are some standard triathlon distances, quoted in terms of swim / bike / run:
Table giving details of the different distances of different types of event.

| Event | Swim | Cycle | Run |
| --- | --- | --- | --- |
| Super sprint | 400m | 10km | 2.5km |
| Sprint distance | 750m | 20km | 5km |
| Standard (Olympic) distance | 1500m | 40km | 10km |
| 'Ironman'® distance | 3800m | 180km | 42km |
Often longer races are referred to as 'long distance triathlons', some of which may be under the Ironman® brand. Since it began as a challenge between a group of Navy Seals, the Ironman® has grown to become one of the most recognised endurance events in the world. Originally a combination of the Waikiki Rough Water swim, the Around Oahu Bike Race and the Honolulu Marathon.
Triathlon has separate categories for athletes with disabilities (paratriathletes), elite athletes, and age group athletes (from 8 to over 85 years!), and all have recommended race distances. See the ITU Competition Rules for more details.
Other Race Formats
Duathlon
Duathlon is an activity that combines running and cycling in one event. Duathlons provide an excellent option for people who are unable to swim, or who do not enjoy the water, or in areas where there is no place to swim or weather conditions are not conducive to swimming.
The event has three segments : Run – Bike – Run
Winter Triathlon
Winter triathlon, usually the swim section is replaced by cross country skiing. You need snow or ice for this one, however the run and bike segments can take place on a different surface.
The event has three segments : Run – Mountain Bike – Cross Country Skiing
Cross Country Triathlon
Cross triathlon, or X-tri, is an off-road triathlon discipline that typically takes place over a 1 kilometre (km) swim, 20 to 30km mountain bike and 6 to 10km trail run.  The discipline first emerged in 1996 at a race in Maui, Hawaii, and later evolved into the world-renowned XTERRA series.
The event has three segments : Swim – Mountain Bike – Cross Country Run
Aquathlon
One of the simplest forms of multisport, Aquathlon consists of swimming and running. The official distances for the annual ITU Aquathlon World Championships are a 2.5km run, 1km swim, and 2.5km run.  Note in some countries there may just be a swim followed by a run.
The event has three segments : Swim – Mountain Bike – Cross Country Run
Mixed Relay
ITU's Triathlon Mixed Relay format is racing at its most thrilling. It's energetic, exciting, uncompromising and action-packed. This innovative format also known as 4XMixed Relay, comprises of two men and two women. Each athlete completes a 'super-sprint' triathlon of swimming, biking and running, before tagging off to their next team mate. It's non-stop action from the very beginning, and the pace is relentless. It is survival of the fastest.  Mixed Relay will enter as an Olympic Event in Tokyo 2020.
The event has three segments for each competitor : 4 x Swim – Bike – Run
What is a Triathlete?
When a person from outside the sport is asked to describe a triathlete, they will use some of the following terms:
Super fit.
Olympian.
Winner.
Sport mad.
Muscles.
Lycra.
As insiders to the sport, we know that, whilst there are triathletes that meet all the above descriptions, Triathletes come in all shapes, sizes and have personal goals ranging from finishing a sprint to qualifying for Ironman® Hawaii.
As a coach you need to recognise and respect all athlete's goals, and you have a responsibility to encourage participants who are new to the sport, some of whom may be thinking the above is what they need to be to take part.
Let us consider some of the basic requirements of a triathlete and the starting point for a Triathlon coach. Most people will come to the sport with some experience of at least one of the disciplines, but may have very limited experience in the others. The following list shows that the required standard to be a triathlete is not high:
Swim:
Have fundamental skills of swimming (floating, water confidence).
Ideally can swim front crawl – even if only 1 length.
Bike:
Able to ride a bike.
Have road awareness.
Run:
Able to jog/run.
Distance not relevant – may have completed 5k fun runs.
Coaching and teaching are very similar, however a Triathlon Coach may not be versed in teaching someone to swim, or teach the fundamentals of riding a bike. If a person requires this level of support, they should be signposted to a specialist swim teacher or cycling coach.
There are people who may not have the physical ability to swim, cycle or run using the standard equipment, but anyone who wants to should be able to take part in triathlon activities. Paratriathlon is well developed and can support athletes and coaches to ensure our sport is open and accessible.
As a coach, you need to be able to adapt sessions to meet your participant's needs, and also learn where to signpost athletes when required.
Competitor Status
Triathletes fall into a range of categories, these include:
Novice: first time participants.
Age-Group: Triathletes who are non-professional but passionate about the sport. These individuals are performance orientated. The age-group system allows you to compete against other triathlete entrants of the same age (within a five year band) and sex. Triathlon and duathlon World Championships give all triathletes the chance to enter – they have an age-group category as well as an elite category.
Elite: professional triathletes or paratriathletes who compete at an international level.
Athletes are also grouped on age:
Table showing the age categories

| Group | Age range | Image |
| --- | --- | --- |
| Youth | 15-16 | |
| Junior | 17-19 | |
| Senior | 20-39 | |
| Veteran | 40+ | |
Rules of Triathlon
Like all sports Triathlon is governed by rules that apply to all races that come under the governance of your National Federation or the International Triathlon Union for international races.
There are some common rules that most competitors have heard about, and some less well known ones, that are nevertheless important.
Common Rules that many people have heard of include:
Drafting – in many races competitors cannot sit directly behind the cyclist in front on the bike section.
Mount and Dismount line – riders can only be 'on their bike' on the cycle section side of the mount/dismount line.
Helmet violations – participants must have helmet on and done up whilst they are in contact with their bike.
No headphones and no nudity.
There are however a significant number of other rules, which include specific definitions of what equipment is allowed and when, specific race rules for different distances.
Coaches should make a specific effort to learn and understand the majority of rules, at least at a high level. In this way they are in a better way to educate their athletes, and with some imagination can also simulate mental skills in a race, when dealing with issues around rules and potential penalties.
The first step is to read and digest the rules of the sport, found in the rule book.  A link to the Rules of the sport will be available once you have completed the introductory section of this content in the Triathlon Rules Section.
International Triathlon Union
Triathlon Coaching course book